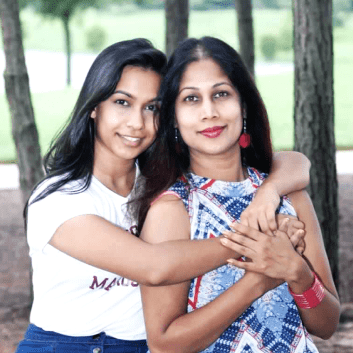 Titli, which means butterfly, was the
loving nickname Geetika had for
Akanksha, and now it's the logo and
central theme of SitbyCare, as a
tribute to Akanksha.
Akanksha was a freshman at University of Chicago
and wanted to become a child neurologist.
Welcome to SitByCare, where health sitters are matched to patients who deserve companionship. Founder Geetika Sinha, previously a stay at home mom, started this journey when her 
only child, Akanksha's illness exposed her to one of the most uncomfortable realities patients and their families face in hospitals—loneliness.
During the course of her 2 1/2 months stay in a hospital for her daughter's illness, Geetika experienced the damaging effects loneliness can have on patients & their families firsthand. "For the first time I saw, experienced, and realized how a patient's life in a hospital could be so full of loneliness and despair," said Geetika. "Even though I was going through my own trauma, at times, I envisioned the hospital to be more interactive, friendlier—an environment where patients can hope and feel better."
On April 30, 2017, Geetika lost her 20 year old daughter and gained a lifelong purpose. She committed herself to creating a service where no patient or families feel alone, and is aided along their treatment journey by warm and supportive companions. Geetika's vision of bringing companionship and care to all those patients who need additional support for when their loving family and friends cannot be there became SitByCare's mission.
In a Modern Healthcare publication, it was noted that while the evidence on the impact of
loneliness is strong, research on effective solutions is still scarce. SitByCare is one solution that
can work to overcome the growing unmet need in patient care.
SitByCare is an impactful and rewarding platform where those interested in providing companionship and care
to people in medical and care facilities can receive comprehensive training, a flexible work schedule and high
hourly rates. And those seeking personalized care and companionship can feel confident knowing their needs
will be met, and their loved ones will benefit from reliable care they can count on bringing more hope and joy
into each other's lives every day.
"I am very happy I have been able to come this far with the support of a great team, partnership with people who
have understood and believed in my vision and dedicated their time and effort to make it happen." - Geetika
To learn more about SitByCare and how you can be the ONE to make a
difference, explore the site and consider signing up as a health sitter.
Read our articles on the power of companionship
Get all the latest informational articles to your inbox